Interior Painting Aspen, Telluride, Aspen and Vail CO
Preparation
Interior painting requires a lot of preparation even before you pick up a brush. The whole space needs to be be prepared for interior painting. Furniture, items, and floors are covered and protected. Walls and ceilings are inspected for nail holes, cracks, and are all filled and repaired. All baseboards, windows, and frames are professionally taped and caulked.
Applying finishes
Top Notch Painting will prime all new drywall and texture and then follow with two coats of high quality latex paint. Also with our dry weather in Aspen, Telluride and Vail 2 coats of paint are needed or otherwise there might be cracking.
Cleaning and room care
Rooms are returned to their prior state: tape is removed, floors and carpets are swept, all garbage removed from the property.
Inspect our great job!
Post-painting the owners and our painters inspect all of their painting work before we consider the job complete. Your satisfaction is our highest priority.
Call us today for your Free Interior Painting Estimate!
Using the latest in environmentally friendly/GREEN Coatings
We offer Interior Painting in the following locations all over Colorado. Telluride, Aspen, Basalt, Glenwood Springs Gypsum, Eagle, Edwards, Avon,Beaver Creek and Vail.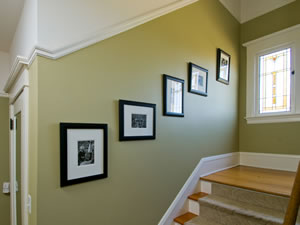 Custom colors make these stairs look great.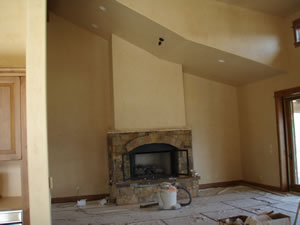 Interior great room painting.