Interior Painting Aspen, Telluride, Aspen and Vail CO
Preparation
Interior painting requires a lot of preparation even before you pick up a brush. The whole space needs to be be prepared for interior painting. Furniture, items, and floors are covered and protected. Walls and ceilings are inspected for nail holes, cracks, and are all filled and repaired. All baseboards, windows, and frames are professionally taped and caulked.
Applying finishes
Top Notch Painting will prime all new drywall and texture and then follow with two coats of high quality latex paint. Also with our dry weather in Aspen, Telluride and Vail 2 coats of paint are needed or otherwise there might be cracking.
Cleaning and room care
Rooms are returned to their prior state: tape is removed, floors and carpets are swept, all garbage removed from the property.
Inspect our great job!
Post-painting the owners and our painters inspect all of their painting work before we consider the job complete. Your satisfaction is our highest priority.
Call us today for your Free Interior Painting Estimate!
Using the latest in environmentally friendly/GREEN Coatings
We offer Interior Painting in the following locations all over Colorado. Telluride, Aspen, Basalt, Glenwood Springs Gypsum, Eagle, Edwards, Avon, Beaver Creek and Vail.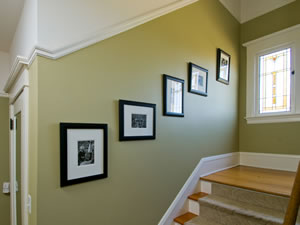 Custom colors make these stairs look great.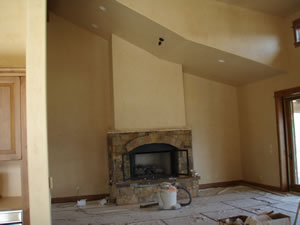 Interior great room painting.
Why are we the Best Interior Painting Company In Vail, CO?
We are Professionals
Hiring amateur painters is a hit or miss proposition. The question is: Should you risk the aesthetics of your property to save a few bucks? At Top Notch Painting, we live up to our name. We do not take a project for the sake of it. We understand that our professionalism should reflect your high standards.
Licensed
We are an accredited company in Vail, CO, with all paperwork intact. We are also an insured firm, meaning you get your peace of mind in the remote likelihood of our going wrong. As a licensed company in Telluride, CO, we abide by all rules and adhere to all local norms.
Communication
Often, a lack of communication results in a wide gap between expectation and reality. Not with us, however. We assign a project manager for every team to keep channels of communication open. The manager reports to you on the day's progress. Should you have any questions or suggestions, the project manager is the go-to person.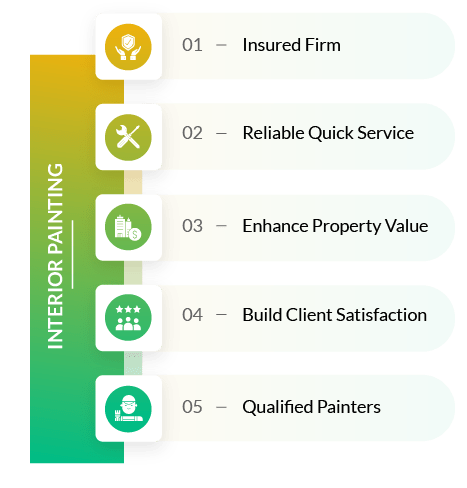 Core Values
Your house may be of brick and mortar, but it has a soul of its own. It is this soul that transforms it from a mere building to a home. When we take the painting job, we stay true to your values. Our ethics and professionalism reflect the love and care you have invested in your home. Empathy and care are our core values.
Commitment
With us, you get more than what you pay for. We assure quality but go beyond the mere routine. Each of our workers in Telluride, CO, & Vail, CO, has imbibed commitment to excellence as a habit. That is why we give you a clear picture of what to expect. We set realistic deadlines and enhance your property value with our fine craftsmanship.
Customers First
You cherish your property, and we are here to help add value to it with our deft brushstrokes. We listen to all your expectations, plans, and requirement before taking the job. We also ensure that the quality of materials we use are just like us: Top Notch.
Client Satisfaction
You must get bang for your buck. The same applies to us. We want to relish in the knowledge that our efforts have left you with a smile. We maintain the same dedication we had started with. Our dedication has helped us build a long list of happy customers.
We go the extra mile
It is the smiles of our customers that have brought us where we are today. You may have a mental picture that you cannot articulate. However, our team at Telluride, CO, is capable of understanding what you cannot say. We invest in listening. We customize each element of our package to ensure that your vision finds expression.
Specialization
We specialize in painting, and we take this perceived routine and mundane aspect to the level of art. We do not have painters on our roll. What we have are painters. And these painters have earned a name for themselves via their creativity. No matter the surface, we have many tricks up our sleeves to floor you.
Delivery on Time
Deadlines are sacrosanct. We know you want to take possession of your property, and delays just would not do. We know that timely delivery is essential in this competitive industry. That is why we never miss our deadline. Rest assured, we do not rush through and do a shoddy job.
Reach us to hire the best Interior Painting Contractors in Telluride, CO, now!
Tips To Choose The Best Interior Painting Company in Vail & Telluride, CO
Check Experience
There is no substitute for experience. More the experience of a firm, the higher the number of challenges it has faced. And if it still is reputable, it is worth your while to invest money in it. Such a company is familiar with the nuances of painting. It knows how to deal with challenging situations.
Cost
Different companies charge different rates for the same work. A comparative study would save you some big bucks. Search for players with a large clientele. Such companies source in-bulk raw materials directly from the manufactures. They are likely to offer you better deals.
Check the professionalism
A professional company will keep all its paperwork ready. Moreover, such companies get insurance cover. There will be no issue with its license. It will testify to whether the company follows safety regulations. Check how the staff deal with the customers. Ask for a list of their past projects in Vail & Telluride, CO.
Reputation
Reputation precedes presence. Check with the company's past clients. A reputable company always highlights the reviews and case studies on their website. Best, ask for referrals. A good company never shies away from helping its potential clients.
Compare 2 or 3 painting companies
Never hire the first company you come across. There is plenty of fish in the sea. Check at least two-three companies, take their quotes, and compare their services. Try to track down their recent clients in Vail & Telluride, CO, and take their opinion. The effort is worth your while if you value your property.
Browse about the Company
Want to make an informed decision? You have Google and the social media at your service. Any company that is proud of its accomplishments would put them on their site and social media. Also, people actively share their opinions on the web. What can be a better way to learn about the company than browsing!
Ask for qualified painters
A good company in Aspen, CO would only hire qualified painters. You do not want amateurs and unskilled people to tarnish your property. Ask the company to furnish the qualification certificates of its staff. A good company would be upfront. They will have nothing to hide.
Location
It is better to choose a local painting company. That way, you can keep track of the developments. It will be easy for you to reach them if any need arises. Also, this will save time and money spent on transportation. Remember, outsourcing should give you peace of mind.
Team size
Companies with a large worker base are better than a team of few. They are more reliable and are capable of offering quick services. With a small team, you have to wait for its members to finish the job at their hands before they can address your needs.
Are you looking for an Interior Painting Company in Telluride or Aspen, CO? Then, you are in the right place. Give us a call today!
Why Do You Need An Interior Painting Company in Aspen, CO?
Quality work
Professional painting companies in Telluride & Aspen, CO, never compromise with the quality of work. They give equal importance to preparing the wall ahead of the painting. Using the best techniques and tools, they give you a flawless product. No messy flake, chip, or debris. Their finishing remains good, and the paint stays on the walls for years.
Saves Money
It may appear like doing the job yourself would cost you less. But that need not be the case. When you get professionals on board in Telluride, CO, they are more likely to stick to the budget. They give you quality work without denting your budget. As most of these companies buy raw materials in bulk, they provide you discount as well.
Saves Time
Painting does not involve only coloring the walls. You need to make a lot of preparations before starting the work, for example, covering the furniture and floor, filling up holes, and the like. It may seem like a fun project, but slowly you realize how tiresome it could be. Call in the experts to save time.
High-Quality Tools
You may have a few paintbrushes, but trust us, it is not enough. High-quality ladders, rollers, paint sprayers, caulk guns are some of the tools you may need. Without these, you are in for a long haul. A professional painting company in Vail, & Aspen, CO, has all these tools to pull off the job efficiently.
No need for you to clean up
If you are doing it yourself, you would not be able to rest until the mess gets cleared. A professional company handles this too. The company takes care of the entire process, including cleaning up. Besides, it knows how to dispose of paints, and other stuff, considered as hazardous.
Get in touch with the top-rated painting company in Vail & Telluride, CO.