Why Are We the Best Painters in Aspen, CO?
Expertise
We have been a part of the industry for years. Our years of experience backed by our qualifications and credentials, make us one of the famous painting companies in the region. The cumulative experience of our painters spans decades. We use our expertise in delivering the best results to our clients.
Team Size
Our infrastructure and team size make it easy for us to handle painting projects of different volumes. Whether it is interior painting for a single room or the exterior on a large custom home, we can work efficiently on the project and complete it on time. Our team handles all kinds of painting jobs.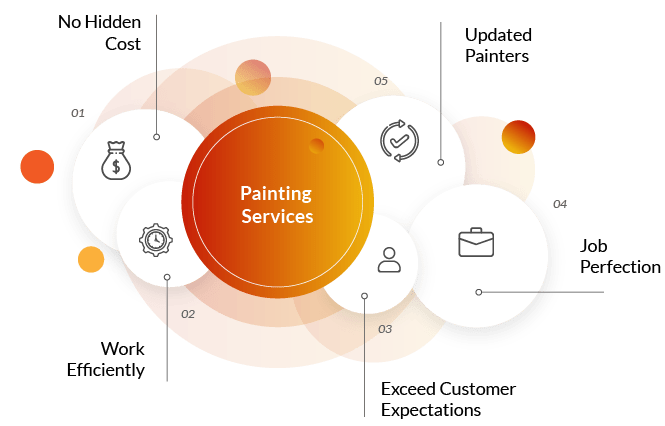 No Hidden Surprises
With us, you don't have to worry about surprise charges or unexpected fees. Unless you include more work to the list, which will be charged separately, we don't charge extra for our services. You will not find hidden costs and charges in the final bill. What you see is what you get.
Transparency
Our quotes are detailed and include every piece of information. You will know what you are paying for and how much. It will give you the exact idea of how we will work on the project. Having this information in the quote will help you make a better decision.
Exceptional Painting Services
We strive to provide the best painting services in the market. We take responsibility and ensure that our job is done to perfection. Customer satisfaction is our priority, and we stand by our words and actions. We don't just make promises; we deliver them with a smile. We want our customers to be happy.
We exceed customer expectations
Our aim has always been to surprise our clients in a good way. We deliver more than the expected results. Tell us what you want, and we will prove that you can ask for more. From the quality of the painting to customer service, we don't compromise in any aspect.
Please feel free to contact us at your convenience for Painting Contractors in Aspen, CO.
Tips To Choose The Best Painting Contractors in Aspen, CO
License
Even though you have insurance for your property, the painting company you hire in Aspen, CO, should also be licensed and insured. If any damages occur to the property during the project, the contractor should have insurance to cover it. Workmen's compensation and insurance are equally important. Make sure to ask for proof of insurance.
Ask About Warranty
Most painting contractors offer around one year to the three-year warranty for their job. Don't just ask for details, in any case. You will need to understand the things that are included and excluded. Get the warranty in writing on the official letter pad of the company. The warranty should cover both material and labor defects.
Check If They Have Proper Tools
How do painters do their job? Using the essential tools, isn't it? To know if a painting company is capable of handling the job, ask about the tools and equipment. They should not just own the required equipment but should also know how to use them.
Are They Up To Date
Painting is an art, even if it is painting walls and buildings. New trends and techniques crop up from time to time, and so do the tools. Professional painters in Aspen, CO, need to stay updated about the latest changes and concepts in the market. They should identify new designs and use them.
Check If They Can Handle Challenges In Painting
Painting a wall or a door is easy. Knowing which paint, how much, which brushes, and tools to use for the purpose is where the talent lies. A painter should understand the minute difference in textures, materials, and finishes. It differentiates an ordinary painter from the best in the market.
Check their completion deadline history
Before hiring a painting company in Aspen, CO, make sure the team will be working on your project to finish it on time. Your schedule is as important as theirs. Don't wait until the last minute to find out if they are already handling other projects. Ask about the team size and their current projects. Then decide.
Check If The Company Be Able To Hire A Qualified Professional
The company should already own a team of professional painters in Aspen, CO. And if required, it should also be able to hire the best ones without too much fuss. If there is a certain project that needs an expert in the field, it should be capable of hiring that person.
Are you looking for a commercial or residential painting contractor in Aspen, CO? Get in touch with us to learn more.
Why Do You Need A Painting Contractor in Aspen, CO?
Cutting Edge Technology
A professional painting company has the necessary tools and equipment and the expertise required to deliver the best results, be it the quality of the paint or the service. If you want the building to have a pleasing and attractive look, hiring the services of a contractor or company is essential.
The Painting Will Get Completed On Time
A professional company in Aspen, CO, must have a team large enough to complete even the biggest projects on time. The team plans and allots individual sections to each painter to finish on time without compromising on the quality. The company understands the importance of completing the job within the schedule.
Get Longevity
Painting is a cost-intensive job. If you want the results to last for a long time, hiring a company is the right choice. You don't have to worry about chipped off, faded, or uneven shades of paint on your building walls. A skilled painter delivers perfection and longevity.
Don't Lose Out On Your Valuable Time
We aren't going to deny that you can very well paint on your own. But do you want to spend your free time splashed with color drops of paint instead of relaxing or enjoying? Why not enjoy your precious free time to unwind while professionals take care of painting the building? Go and have fun.
Get in touch with our certified and verified Painting Contractors in Aspen, CO.