Our Goal
Top Notch Painting's goal is having satisfied customers and to deliver a long lasting high quality project.
We promise to actually answer the phone!
Our process
First we carefully mask and protect the surrounding are. We make sure we don't "Paint your car" by mistake.
Next we don't skimp on materials or on surface preparation. Carefully following the manufactures recommendations will give your project the best chance of turning out beautiful and long lasting. if spraying is done we always back brush to ensure a proper bond.
Finally we clean up carefully and don't leave any trash behind.
We offer exterior painting services in Vail, Telluride and Aspen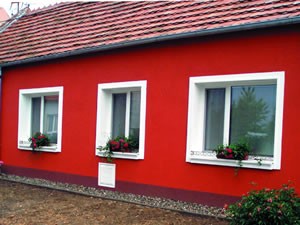 Exterior Painting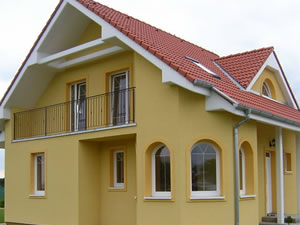 Finished exterior job
Why are we the Best Exterior Painting Company In Vail, CO?
Initial Consultation
They were confused about what color would go well on the exterior walls of your house? Get a free consultation with our specialists in Vail & Telluride, CO, and chalk out a plan. Get more ideas on designs with their vision. They consider the weather and its impact on walls before recommending the color.
Dedicated SPOC
They are no more waiting for hours to get your queries resolved. With us, you get a dedicated point of contact. Our project managers at Vail & Telluride, CO, oversee the work until it gets done and dusted. They efficiently deal with any issues. Well-behaved and sincere, their credentials are synonymous with prompt service.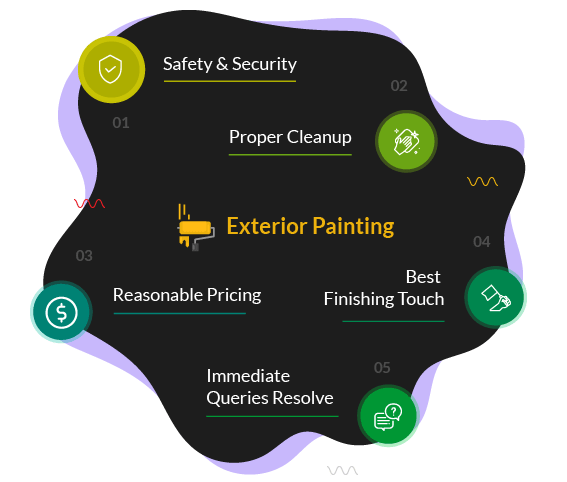 Safety & Security
You may face several problems once you embark on the painting mission. From climbing ladders to dealing with solvents, the issues are many. Besides, if you are allergic to dust, you might end up in the hospital. When you call the professionals, none of these problems is your concern.
Proper Cleanup
Painting the house may sound interesting, but are you in for the cleaning part? Assigning the job to certified professional painters makes your life stress-free. The paint residue and other remaining materials often qualify as hazardous waste. Thus, it is not a good idea to dump them with your household waste. Let the experts handle them.
We are Friendly
We are a one-stop-shop for all issues concerning painting. From consultation to cleanup, the entire process is simple and customer friendly. You get daily reports. If you want any modification, just let us know. With us, all you will have are the sweet memories of the house painting job.
Payment Methods
Once we are on the same page with your vision, nothing can disrupt the flow of work. If you worry about the mode of payment, do not. Pay us the way you are comfortable with. Cash, cheques, or credit cards, we accept all.
Quality
Failing to deliver quality work means losing credibility. We take no chance with our credibility. Using advanced tools and raw materials, we deliver world-class results with precision. In short, hassle-free, quick, and efficient services are what you get. We not only assure results, but we also guarantee quality.
Professionalism
Our professionalism has been our biggest asset in expanding our client base. We make no unrealistic claim, be it budget or deadline. You get a clear idea of how things are going to proceed. Following the best practices, we never compromise with our clients' or employees' safety.
Best finish
We make you fall in love with your house. Our finishing touch has never failed to please the clients. Ask them, and they will have only one word to define our services: Exceptional. Our experienced painters never do a shoddy job. They put in their best efforts and give an attractive makeover to your house.
Honesty
Honesty, for us, is not an ideal but a habit. Our integrity has always been our driving force, and we will never keep you in the dark about progress. If things go south, we rectify them. We do all this by keeping you in the loop. When it comes to pricing, we work within the budget. Expect no last-minute hidden charge.
We are a full-service exterior painting company based in Vail & Telluride, CO. Call us today!
Tips To Choose The Best Exterior Painting Company in Aspen & Telluride, CO
Check the Credentials
Credentials are indicators of whether a company has the license and compliance documents. It also determines the reliability of the company. Licensed agencies in Aspen & Telluride, CO that have a membership of well-established associations follow the norms. They do not compromise on safety.
Ask for Reference
Successful companies in Aspen & Telluride, CO, are always delighted to boast about their services. Why not ask for references? A list of referrals consists of people having real knowledge of their work. Talking to them will smoothen the selection process. Now, if the company refuses the list, you deny them the contract.
Mode of Communication
Are the company staff available to answer your queries, or you have to wait for hours to get an appointment? Do they keep you abreast of all the developments? These are a few questions whose answers you should seek before selecting a company. Avoid companies with poor communication records.
Pricing
Cost depends on factors like the size of the company, its reputation, the design you select, and more. The rates vary from one company to another. Check thoroughly to find out the one that charges the most reasonable rate. Remember, the cheapest may not always be the best.
Insurance
You cannot afford to miss this point. A company covering you with an insurance policy will save you from big-ticket expenses. Any damage to your property while its staff is at work is not your concern. Check for agencies that insure their workers too.
Check if they hire contractors to work
Many companies hire contractors to do the job. While it should not be the sole deciding factor, but it is worth your while to check the terms and conditions. The company in Aspen & Telluride, CO, should take complete responsibility for the contract workers. Also, check whether the parties involved work amicably. You aim to eliminate every scope of tension.
Will they care for your home
Is the company willing to go the extra mile to protect your house and belongings from any damage? Ideally, the staff should take all the precautions to ensure there is little to no damage. They should cover your furniture with plastics and use drop cloths whenever necessary.
Ask for a formal quotation
Before you sign the deal with the painting company, ask for a formal quotation. The quotation should mention the products they will use, areas they will work on, and the like. It should also specify the cost. Going ahead without a quotation might lead to disagreements at a later stage.
Don't select based on cost alone
You get what you pay for. Hence, the cost should not be your only concern. If a team with skilled and experienced professionals costs you a little more, there is no harm. If you go for the cheap way out, you might end up shelling out more than you bargained for.
Get in touch with the highest-rated Exterior painting company in Vail & Telluride, CO.
Why Do You Need An Exterior Painting Company in Aspen & Telluride, CO?
New Trends
When you decide to paint your house, you want the new look to be chic. The staff of a professional agency always update themselves about the current trends. They also know the art of mixing colors to give the best effect.
For Safety
A professional agency trains its staff, gets certifications, and uses proper safety equipment. You may not know about the best practices to avert mishaps, but they do. These companies use the necessary accessories to keep you and their staff safe.
Very efficient
Painting companies in Aspen & Telluride, CO, will have certified experts. They follow a schedule to finish the job quickly and efficiently. While it might take you a whole day, they complete the task within a few hours. This level of efficiency is the outcome of expertise.
Well equipped
Having the right equipment can be a game-changer. If you are out to buy them, be ready to pay an arm and a leg. The best option is to hire an exterior painting company with advanced tools. You get high-quality results within a specified budget.
Attention to smallest details
A painting job is unsuccessful if the details are not perfected. Professional painters have an eye for them. They know which areas need detailing and how to achieve that—the result: Happy clients who are eager to spread the word about their services.
Hire an Exterior Painting Contractor in Vail, CO today!